The developed and patented container cleaner is an automated container cleaner which can clean a wide variety of containers and trailers (types, dimensions and floors) on the inside by means of an extension arm containing several brushes on its head.
Benefits
The use of a container cleaner will bring you many benefits. All benefits are listed below:
Cleaner containers through more intensive cleaning and continuously guaranteed quality;
Reduction of personnel costs;
Cleans 20ft, 40ft and 45ft containers in 2 to 4 minutes;
Water consumption of 20 to 140 litres per wash;
Healthier and safer working environment;
Less (and less aggressive) cleaning agent required.
The use of a container cleaner brings a positive contribution to today's sustainability and automation in port areas because of the guaranteed quality, speed, the creation of a healthy and safe working environment and a reduction in cleaning products.
Target audience
The container cleaner is of interest for container depots, container terminals, transport companies and truck washers.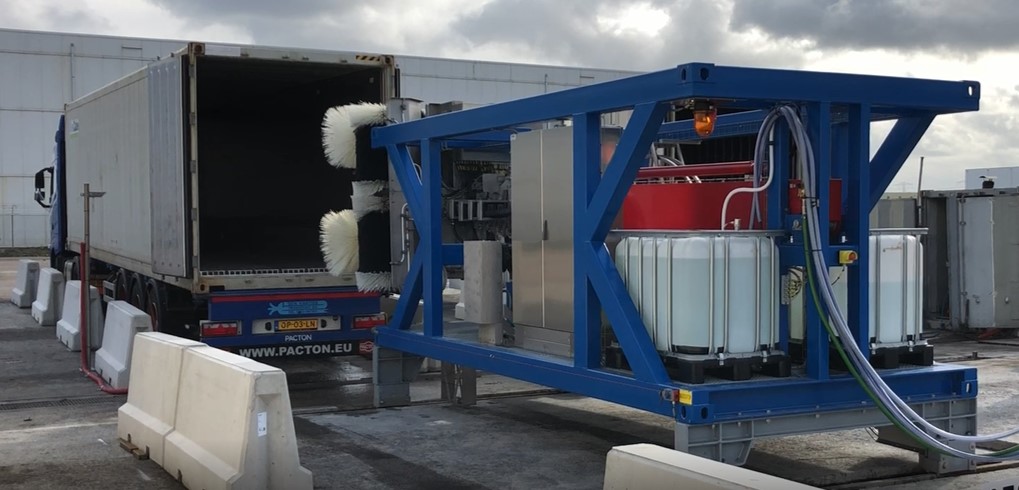 Functionality
The container cleaner consists of a frame or container containing the various systems. The container cleaner can move sideways and is equipped with an extendable telescopic beam. Positioning and adjustment during the washing process is made possible by the application of advanced sensor technology. The operator operates the container cleaner by means of the control panel on the portal and chooses a washing programme to clean the container.
The containers are cleaned very effectively by a combination of brushes and water nozzles (high pressure) which are mounted on the telescopic beam. During cleaning, the operator can follow the cleaning process via the HMI, tablet, smartphone or external computer.
In addition, both the operator and the office staff can read all statistics in an online cloud environment which is linked to the container cleaner. The following statistics can be read and filtered in all time units:
Number of cleanings;
Water consumption;
Detergent consumption;
Various technical specifications.
The container cleaner is equipped with various safety devices and emergency stops. In addition, during the design of the infrastructure we make sure that the cleaning location is partially shielded.
Eco-containerwash has set up the control system in such a way that the container cleaner is easy to operate. However, we do advise following a training course.